Full Event Catering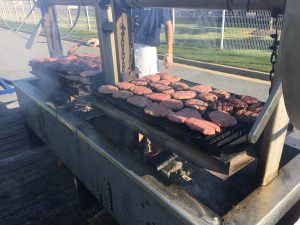 Need to feed a lot of hungry people? Country's can cater your event. Our full catering service option has MINIMUM OF 50 PEOPLE.
We bring the party to you.
Our barbecue catering service is easy. We've catered weddings, parties, corporate events, and a whole lot more. There's really no size party we can't handle. Don't see what you like below? If it's cooked on the grill, we can usually do it.
GET A QUOTE!
BBQ Full Event Catering Services Pricing
Barbecue pork
Barbecue chicken
Barbecue brisket
Barbecue ribs
Chopped pork and one additional meat (excluding ribs)
Chopped pork and two additional meats
All Rib Caters
FULLY CATERED EVENTS INCLUDE:
Brunswick stew or baked beans
Potato salad
Cole slaw
Pickles and onions
All sauces and bread
Iced tea
Paper plates, napkins, & utensils
Holiday Cater: Ham, turkey, cornbread dressing and gravy, sweet potato souffle, green beans, bread, tea, all paper products. (Requires 48 hours notice)
Add-ons:
Premium Sides
Mac & Cheese, Sweet Potato Souffle, Mashed Potatoes, green beans, green salad, or collards. (These items cannot be substituted for any standard side in full caters listed above.)
Options to add dessert to full cater.
Call Bobby for pricing.
What do I need to do?
Just tell us how many people you plan to feed and we'll take it from there.
Customize Your Catering Package
Don't see what you need? Call us and we'll customize a catering package specifically for you.