Party Trays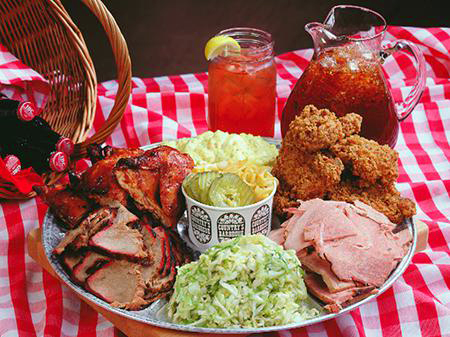 Forget those boring cheese and fruit trays from the grocery store. Bring something everybody really wants to eat.
Country's BBQ Party Trays
Food trays from Country's Barbecue are a great way to take that small gathering to the next level. You'll be the life of the party when you walk in the door with a tray of our pork, beef or ribs!
Please note, some of our trays require advance notice.
Sandwich Tray
*Requires two day notice.
Assorted sandwiches including: sliced beef, sliced beef and jack cheese, sliced ham, sliced ham with cheese, sliced turkey with cheese
Large (36 sandwiches) — $55.00 + tax
Small (20 sandwiches) — $35.00 + tax
All Meat Tray
Includes sliced pork, sliced beef, barbecue ribs, barbecue chicken, sliced turkey, sliced ham, and barbecue sauce
$85.00 + tax, feeds 14-16 people
Food Tray
Includes sliced beef, sliced ham, fried chicken fingers, barbecue chicken, potato salad, cole slaw, barbecue onions, pickles, and sauce
$65.00 + tax, feeds 10-12 people
Fried Chicken Finger Tray
Fried chicken fingers with choice of dipping sauce
Large (60 fingers) $60.00 + tax
Small (30 fingers) $35.00 + tax
All Rib Tray
Includes up to 40 of our famous ribs cut in half
Large (40 ribs cut in half) $72.95 + tax
Small (20 ribs cut in half) $38.00 + tax
To order any of our party food trays, call us at (706) 845-9687.