Party Trays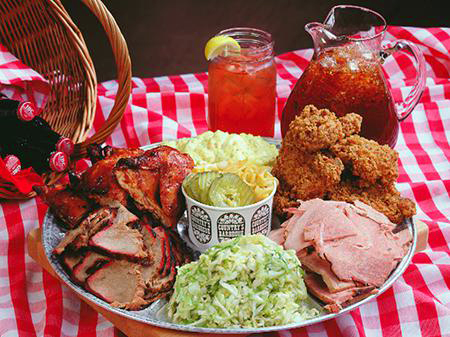 Forget those boring cheese and fruit trays from the grocery store. Bring something everybody really wants to eat.
Country's BBQ Party Trays
Food trays from Country's Barbecue are a great way to take that small gathering to the next level. You'll be the life of the party when you walk in the door with a tray of our pork, beef or ribs!
Please note, some of our trays require advance notice.
Sandwich Tray
*Requires two day notice.
Assorted sandwiches including: sliced beef, sliced beef and jack cheese, sliced ham, sliced ham with cheese, sliced turkey with cheese
Large (36 sandwiches)
Small (20 sandwiches)
All Meat Tray
Includes sliced pork, sliced beef, barbecue ribs, barbecue chicken, sliced turkey, sliced ham, and barbecue sauce
Food Tray
Includes sliced beef, sliced ham, fried chicken fingers, barbecue chicken, potato salad, cole slaw, barbecue onions, pickles, and sauce
Fried Chicken Finger Tray
Fried chicken fingers with choice of dipping sauce
Large (60 fingers)
Small (30 fingers)
All Rib Tray
Includes up to 40 of our famous ribs cut in half
Large (40 ribs cut in half)
Small (20 ribs cut in half)
To order any of our party food trays, call us at (706) 845-9687.